New loan limits and interest rates have a bearing on how much money you can spend on your home. Both of these have just changed.
The conforming loan limit has just been raised by the FHFA (Federal Housing Finance Agency), for the first time since 2006 - an indicator that the average home price is back to its summer 2007 (crash) peak. The limit increased 1.7%, from $417,000 to $424,100.
What this means is that you now have more room to borrow on a conforming loan, with existing FM underwriting guidelines, before you have to escalate to a jumbo loan, which has more stringent lending standards, including more money required down.
The prediction for interest rates is up,up,up, after the increases that have taken place the past weeks. There are no predictors that the graph is going to start moving in the opposite direction any time soon.

This chart shows the interest rate trend since August 2016.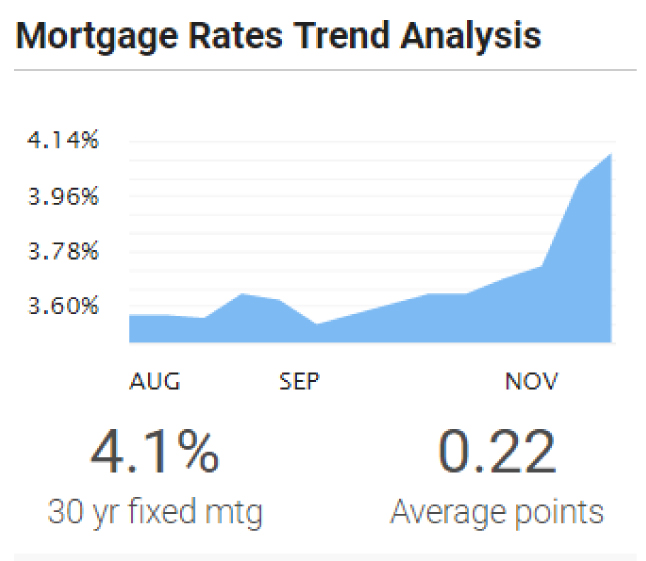 Graph courtesy of BankRate.com
Here is an example of how an increase of .5% in your interest rate can effect you and your Purchase Power:
Example
Home Purchase Price: $300,000
Amount down, 20%: $ 60,000
Credit Score: 719
Today's Interest Rate (11-29-2016): 4.1%
Monthly Mortgage Payment: $1161
(excluding taxes, Ins, HOA, etc)
The same scenario with a 4.6% interest rate would have your monthly payment at $1230.
If your monthly mortgage limit was $1160, you would have to drop down to a purchase price of approximately $283,000. In other words, you would have lost $17,000 of your purchasing power, based on your monthly mortgage amount alone. Your down payment would decrease only by $3400, and you would be buying less house.
This not only effects Buyers but Sellers alike, as a Seller's Buyer pool changes.
Finance awareness and how it effects you, as a Buyer or as a Seller, is part of the services I offer when I work for you. Contact me with any questions, and let me know how I can help. Sometimes, the best time to Buy or Sell is NOW!
This post written by Dawn Deegan, Make A Brilliant Move Realty.
Do not copy or repost without express permission.
© 2016. Content is written by Dawn Deegan MakeABrilliantMove.com

Do not copy or duplicate.